Classic 13-piece Hnefatafl Game
Price: £17.95+P&P. Out of stock. Order:
This hnefatafl set is a little gem of a game. It offers an affordable but stylish way to play the popular Irish game of brandub and the intriguing but lost Scottish versions of hnefatafl. Wherever you hail from, this small but satisfyingly deep game will entertain the mind and adorn the coffee table.
The board is made of birch plywood, which is hard and durable, measuring 8 inches square (200mm). The neat grid is burnt into the board using the pokerwork technique, which gives a rustic feel and resists wear. Markings are deliberately kept to a minimum: just the central "castle" and the four corners are highlighted. This allows a variety of starting layouts to be played, without redundant extra markings to confuse matters. The board is finished with a cellulose lacquer and polished with beeswax.
The pieces are wooden pawns. A dark brown king sits in the centre of the board, surrounded by his four brown defenders. At the edge of the board, eight white attackers lie in wait to capture him. A black drawstring pouch is supplied to hold the pieces when the game is stored away.
An 8-page booklet is supplied with the game. It contains the history of the game of hnefatafl, focussing on the small games from Ireland and Scotland. Rules are given for two games: brandub, the Irish game, and an experimental set of rules for the Scottish game, which had some differences from the Irish game but was played with the same board and pieces.
The game comes with the same after-sales service you expect from The Hnefatafl Shop. Before and after the sale, you'll find here a passion for the game: strategic tips and alternative rules for the board on the web site, and a readiness to answer any questions about history, rules and strategy that you may have.
The game is hand-made in a rustic style. Please do not expect machine-made precision; there may therefore be blemishes in the work. Not suitable for young children due to small pieces.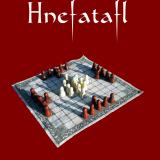 Learn about the history of hnefatafl, and how to play some of the many different versions, with this 20-page booklet. The booklet takes you through the history of the game, starting with its predecessors and continuing up to the present day. It includes rules for a number of different hnefatafl games, and three other related games. This booklet contains numerous black and white illustrations, and is the ideal gift for someone who is interested in hnefatafl, or in ... (read more...)
Price: £1.95+P&P Out of stock. Order:
See your basket to check out products.