Magpie Print-and-play
Download: magpie-print-and-play.pdf
Size 46kb, downloads 3728.
Hnefatafl print-and-play file with a 7x7 board and elaborate starting layout. The board and pieces fit nicely onto one A4 sheet of paper, with the assembly and play instructions on a second sheet.
The suggested rules are Magpie. This idea was created by Nigel Suckling for his book The Leprechaun Companion, and is based on the ancient Irish game brandub. A leprechaun has found a sack of gold, and must get it home with the help of four friends, while eight thieves try to steal the gold from him.
Note: a correction was made on 9th January, 2015. If you have an older copy, then please download the updated version.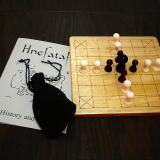 This hnefatafl set is a little gem of a game. It offers an affordable but stylish way to play the popular Irish game of brandub and the intriguing but lost Scottish versions of hnefatafl. Wherever you hail from, this small but satisfyingly deep game will entertain the mind and adorn the coffee table. The board is made of birch plywood, which is hard and durable, measuring 8 inches square (200mm). The neat grid is burnt into the board ... (read more...)
Price: £17.95+P&P Out of stock. Order:
See your basket to check out products.