Price Reductions on Brandub Games
Saturday, 5th April 2014
Today is my birthday, so I decided to give you a little present. The two 13-piece hnefatafl games in the shop are reduced in price! The Deluxe game is now for sale at under £25, and the Standard 13-piece game has dropped to under £18.
The Deluxe 13-piece game is an elegant version of brandub. Showy decoration seen on other brandub games has replaced by quality and style. The board is of birch plywood with a border of American Walnut veneer. The pieces are wooden pawns, with a wooden box to keep them in.
The Standard 13-piece game is a more affordable version. It has the same smart style, but the border is left bare and sanded smooth, and a little black drawstring pouch is supplied to hold the pieces. Both versions of the game are supplied with a booklet containing two sets of rules: the popular brandub, and an experimental Scottish variant.
Now I know people are supposed to receive, not give, presents on their birthday, so I may have things topsy-turvy here. But the best present I could receive today is for people to buy these games from me! Go on, treat yourself.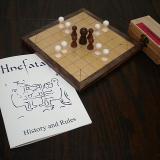 This little board game combines simplicity and style in a small package. Don't be fooled by its size: the small game is every bit as absorbing as its larger cousins. This edition is designed with the true connoisseur in mind: showy decoration is put aside in favour of understated elegance and practicality. Yet it still looks good enough to decorate the coffee table. The hand-made board is of birch plywood, and measures 8 inches (200mm) square. The border is ... (read more...)
Price: £24.95+P&P Out of stock. Order: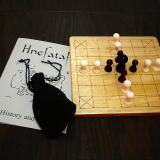 This hnefatafl set is a little gem of a game. It offers an affordable but stylish way to play the popular Irish game of brandub and the intriguing but lost Scottish versions of hnefatafl. Wherever you hail from, this small but satisfyingly deep game will entertain the mind and adorn the coffee table. The board is made of birch plywood, which is hard and durable, measuring 8 inches square (200mm). The neat grid is burnt into the board ... (read more...)
Price: £17.95+P&P Out of stock. Order:
See your basket to check out products.