An Introduction to Hnefatafl (old edition)
Price: £1.95+P&P. Out of stock. Order:
Learn about the history of hnefatafl, and how to play some of the many different versions, with this 20-page booklet. The booklet takes you through the history of the game, starting with its predecessors and continuing up to the present day. It includes rules for a number of different hnefatafl games, and three other related games.
This booklet contains numerous black and white illustrations, and is the ideal gift for someone who is interested in hnefatafl, or in board games in general.
This booklet is the old edition of An Introduction to Hnefatafl, which has been replaced by an expanded 44-page book. These are the last few booklets remaining in stock, so when they're gone, they're gone!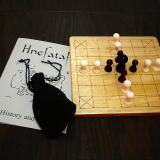 This hnefatafl set is a little gem of a game. It offers an affordable but stylish way to play the popular Irish game of brandub and the intriguing but lost Scottish versions of hnefatafl. Wherever you hail from, this small but satisfyingly deep game will entertain the mind and adorn the coffee table. The board is made of birch plywood, which is hard and durable, measuring 8 inches square (200mm). The neat grid is burnt into the board ... (read more...)
Price: £17.95+P&P Out of stock. Order:
See your basket to check out products.