A new game for February: the Standard 13-piece Hnefatafl Game
Monday, 3rd February 2014
Hot on the heels of the first 13-piece game in The Hnefatafl Shop's new range, a second has now been made available: the Standard 13-piece Hnefatafl game. This one is for those who want something a little bit less fancy and more affordable than the Deluxe range of games. The new game has fewer frills but is offered at a lower price: under £20 for a hand-made wooden game in Victorian style.
The board is built from hardy birch plywood 8 inches square (200mm), marked with a grid of squares. The pattern is minimal and stylish, and is burned into the wood using the pokerwork technique. The thirteen pieces are wooden pawns: a large dark brown king, four brown defenders and eight attackers.
Hnefatafl comes in a wide range of sizes, and this is the smallest at seven rows of seven squares. A king sits at the centre of the board with his four defenders. He must escape from the board with their help. Meanwhile, the enemy of eight attackers must capture him. Despite the low piece count, the game is full of depth. Two rule sets are supplied in an 8-page booklet: an Irish version and a Scottish one.
"I couldn't wait to get this game added to the range," says The Hnefatafl Shop's proprietor Damian Walker. "I really like 13-piece games like brandub, and I wanted to encourage others to experience it at an affordable price."
The Hnefatafl Shop was founded in 2013 as a subsidiary of Cyningstan, who specialise in traditional board games. It was the first on-line shop dedicated to hnefatafl, and enters 2014 with a growing range of quality wooden hand-made games to suit all tastes and budgets.
The Standard 13-piece Hnefatafl Game is the sixth game in the shop's new range. It can be obtained at http://tafl.cyningstan.com/shop/885/standard-13-piece-hnefatafl-game.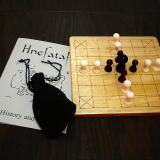 This hnefatafl set is a little gem of a game. It offers an affordable but stylish way to play the popular Irish game of brandub and the intriguing but lost Scottish versions of hnefatafl. Wherever you hail from, this small but satisfyingly deep game will entertain the mind and adorn the coffee table. The board is made of birch plywood, which is hard and durable, measuring 8 inches square (200mm). The neat grid is burnt into the board ... (read more...)
Price: £17.95+P&P Out of stock. Order:
See your basket to check out products.