Magpie Leaflet
Download: leaflet-magpie-book.pdf
Size 112kb, downloads 3592.
Magpie is a variant created by Nigel Suckling for his book The Leprechaun Companion. It is played on the smallest board of seven rows of seven squares, with thirteen pieces. The king is strong but slow in this version of the game.
The back-story is delightful. A leprechaun has discovered a bag of gold, and is trying to take it home with the help of four companions. Eight thieves try to take it from him. The gold is heavy, which explains why the leprechaun can move only to an adjacent square.
Note: a correction was made to the rules on 9th January, 2015. You should download the corrected version if you have a copy older than this.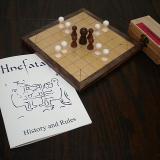 This little board game combines simplicity and style in a small package. Don't be fooled by its size: the small game is every bit as absorbing as its larger cousins. This edition is designed with the true connoisseur in mind: showy decoration is put aside in favour of understated elegance and practicality. Yet it still looks good enough to decorate the coffee table. The hand-made board is of birch plywood, and measures 8 inches (200mm) square. The border is ... (read more...)
Price: £24.95+P&P Out of stock. Order: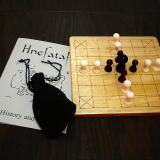 This hnefatafl set is a little gem of a game. It offers an affordable but stylish way to play the popular Irish game of brandub and the intriguing but lost Scottish versions of hnefatafl. Wherever you hail from, this small but satisfyingly deep game will entertain the mind and adorn the coffee table. The board is made of birch plywood, which is hard and durable, measuring 8 inches square (200mm). The neat grid is burnt into the board ... (read more...)
Price: £17.95+P&P Out of stock. Order: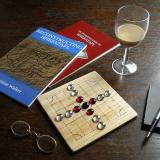 Play hnefatafl Celtic style with this lovely little Brandub game from Cyningstan. When the Vikings took hnefatafl to Ireland, the Celtic people adopted the game and called it Brandub . They preferred the smallest board, and adapted the rules to their own taste. The board is made from pine and is about six inches square (150mm). The pattern for the board is burned into the wood, and is based on a mediaeval stone board found at Downpatrick Cathedral. ... (read more...)
Price: £11.95+P&P Out of stock. Order:
See your basket to check out products.