Hnefatafl Today
Hnefatafl is not exactly a household word today. To most people who see it being played, it is a novelty. But at the present time it is probably as popular as it has ever been since the Viking age. It has become well known not only among fans of ancient board games, but also among people interested in Viking history: not only professional archaeologists and historians, but amateur enthusiasts involved in re-enactments. Tournaments are becoming more common, the most well-known being that held every year on Fetlar, one of the Shetland Islands of Scotland.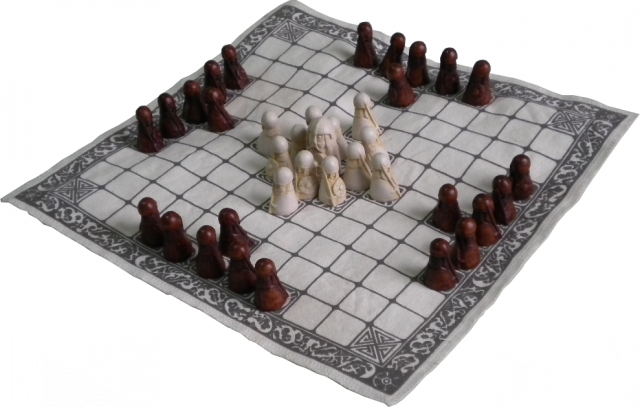 There are a number of sets being commercially made, and due to the variety of board sizes and rules, each set has its own peculiarities beyond mere appearance. A popular version of hnefatafl has been made since the 1980s, called The Viking Game, using moulded resin pieces on a cloth board. It has been a favourite of museum shops, and was also sold through Past Times, a chain of shops specialising in quirky, nostalgic and old-world goods. This has a king and twelve defenders fighting against twenty-four attackers, and its rules have been used in many similar variants.
Due to the novelty of the game and the number of variations, it is also common for people to make their own boards. If one searches the web for images of hnefatafl, there will be as many home-made sets shown as there are commercial ones. The time taken over crafting these boards adds special value for their owners, making the game even more enjoyable. For those who are making their own sets, the information in the Rules section of this web site will be particularly valuable.
One recent improvement has been the rediscovery and increasing popularity of the historic rules of the game. Until recently, researchers were reliant on scant material to put together a working set of rules, so some experimentation in play was needed, and inauthentic variations proliferated. But during the twenty-first century more original sources have been digitised and put on-line, allowing easier access to historical information. While hnefatafl is far from standardised, re-enactors and some players now have access to a game very close, and probably identical, to that which the Vikings played.
Next: A Rule Book for Hnefatafl