Deluxe 13-piece Hnefatafl Game now on sale
Monday, 27th January 2014
A new game has been added to The Hnefatafl Shop: the Deluxe 13-piece Hnefatafl Game. This game will appeal to those with a love of all things Celtic, as well as those who love games that combine strategic depth with elegant simplicity. A type of hnefatafl game popular in historic Ireland and Scotland, the elegance shows on the surface of this edition, in a stylish and understated design.
Hand-made with birch plywood and walnut veneer, the game comes with a set of 13 wooden pawns, presented in an attractive wooden box. The design of the board is simple, appealing to the true hnefatafl enthusiast. The minimal markings allow for a number of different hnefatafl games to be played.
The game comes with a rule book containing a history of the game, and two sets of rules. In both, a king tries to escape the board with the aid of four defenders, against eight attackers who lie in wait to capture him. Brandub, the better known game of the two, comes from Ireland. The second set of rules is an experimental Scottish game, tailored to the different Scottish boards found in archaeological digs.
Proprietor Damian Walker is very pleased with this board. "I've always been attracted to the 13-piece game because of its combination of simplicity and depth. I'm happy to have produced an edition that shows off this excellent game at its best."
The Hnefatafl Shop was opened in 2013 as the world's first on-line outlet wholly dedicated to the game. Over a decade of continuing research has gone into the games sold here, with their rules carefully formulated to combine historical correctness with good balanced game play. This latest addition to the steadily-growing range expands the player's choice to three different scales of hnefatafl game: the 13-piece complementing the 25- and 37-piece games already available.
The Deluxe 13-piece Hnefatafl Game is available from The Hnefatafl Shop: http://tafl.cyningstan.com/shop/870/deluxe-13-piece-hnefatafl-game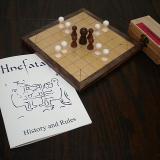 This little board game combines simplicity and style in a small package. Don't be fooled by its size: the small game is every bit as absorbing as its larger cousins. This edition is designed with the true connoisseur in mind: showy decoration is put aside in favour of understated elegance and practicality. Yet it still looks good enough to decorate the coffee table. The hand-made board is of birch plywood, and measures 8 inches (200mm) square. The border is ... (read more...)
Price: £24.95+P&P Out of stock. Order:
See your basket to check out products.