Introducing the Compact Range of Hnefatafl Games
Friday, 11th April 2014
The first of a new range of games has been added to The Hnefatafl Shop. The Compact 37-piece Hnefatafl Game uses small squares to give you a bigger game without taking up more space. It's great for people who don't want their game to take up the entire coffee table!
This set fits an 11x11 grid for 37 pieces onto the same 10-inch board as the Basic 37-piece Game. But instead of the glass pebbles, it uses small pawns to emulate the style and refinement of the Deluxe range of games. These pawns are supplied in a wooden box. The board also features a decorative veneer border.
The set is supplied with the rules for two games. Tawlbwrdd is a hnefatafl game from medieval Wales, played with a king and twelve defenders against 24 attackers. The second game uses modern set of rules based on those from Fetlar, making the set suitable for tournament play.
Proprietor Damian Walker is very pleased with the look of this game, saying: "Until now, people wanting to play on an 11x11 board have had only the choice of the Basic 37-piece game. Now there's an even more attractive product available to suit deeper pockets."
The Hnefatafl Shop was founded in 2013 as a subsidiary of Cyningstan, who specialise in traditional board games. It was the first on-line shop dedicated to hnefatafl, and enters 2014 with a growing range of quality wooden hand-made games to suit all tastes and budgets.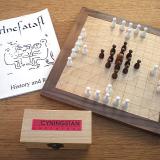 Some of the most popular hnefatafl games today are played on boards of 11 rows of 11 squares. This hnefatafl set brings such a game to you in a compact package. While it uses the same small squares as the low-cost Basic hnefatafl games, it emulates the style and refinement of the Deluxe range. This makes it both practical and attractive: find a place to display this in your home and it will be an instant conversation piece! The ... (read more...)
Price: £39.95+P&P Out of stock. Order:
See your basket to check out products.