Another 25-piece Hnefatafl Game in the Shop
Wednesday, 8th January 2014
Some people noticed the disappearance of the old, low-cost "Medium" hnefatafl game from the shop. But don't worry: its replacement is now here! The Basic 25-piece Hnefatafl game is for people who want an inexpensive and portable way to play great hnefatafl variants based on the 9x9-square board.
The new game improves on the old in its use of hard-wearing birch plywood, precision-cut for a smart appearance. It features the same attractive glass pieces as the old game, but now has an improved rules booket: the same, in fact, as that supplied with the Deluxe 25-piece Hnefatafl Game.
The booklet contains the rules for three hnefatafl games, two old and one new. Tablut is the last historical version of hnefatafl still played before its revival: the botanist Linnaeus spotted it in Lapland. Tawlbwrdd is a mediaeval Welsh version of the game. And sea battle tafl is unashamedly modern, a well-balanced version tried and tested in tournaments.
This is one of the cheapest hnefatafl games available. At just £12, it's difficult to find a better-value game - especially one of traditional wooden construction as opposed to plastic or cardboard. But there's no skimping on quality, with each one being hand-made.
Proprietor Damian Walker explains the rationale behind the new game: "While the shop is stocking more exclusive products like the Deluxe game, I didn't want to forget those whose budget won't stretch that far." The Basic 25-piece Game will fill the gap left behind by the discontinued 'Medium' game.
The set is available from http://tafl.cyningstan.com/shop/851/basic-25-piece-hnefatafl-game.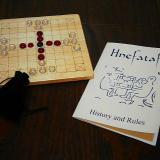 This item has been discontinued. For a similar product please see Hnefatafl from Gothic Green Oak . Or you may instead want to browse other products in The Hnefatafl Shop . This smart little hnefatafl game is the perfect one to take on the road with you. It's light and takes up little space in a bag, and it looks good too. Set out on a table in a cafe or bar, it will attract the attention of ... (read more...)
Price: £11.95+P&P Out of stock. Order:
See your basket to check out products.