New Product: Basic 37-piece Hnefatafl Game
Wednesday, 11th December 2013
Another new product is available from The Hnefatafl Shop. The Basic 37-piece Hnefatafl Game is a smart, no-nonsense addition to the family of games sold here. It is aimed at somebody looking for a low-cost entry into the game, or an inexpensive set to carry around to tournaments or game nights.
Experienced players will enjoy the flexibility that the minimal board design offers: starting positions are not marked, only corners and the centre square, allowing a number of different variants to be played on the board. With its sparkling glass pieces, anyone can appreciate the decorative value it adds to a room.
The hand-made board comes with a black drawstring pouch to hold the pieces. The rules booklet gives two options for play, alongside a history of the game and details of where to find out more.
The Hnefatafl Shop, a subsidiary of the board game company Cyningstan, was created to provide a specialist on-line shop for hnefatafl. It forms part of the site Hnefatafl: the Game of the Vikings, which draws on over a decade of research to promote the game of hnefatafl and to provide information about its history, rules and strategy. By specialising in one game, The Hnefatafl Shop can offer a better range of products than more general gaming outlets.
Proprietor Damian Walker said "I've been making a low-cost 11x11 hnefatafl game for a number of years. But for The Hnefatafl Shop I wanted to offer something a bit smarter in a similar price range. I think people will be pleased with the appearance of this new set."
The set is available from http://tafl.cyningstan.com/shop/815/basic-37-piece-hnefatafl-game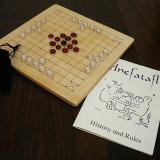 This item has been discontinued. For a similar product please see The Viking Game . Or you may instead want to browse other products in The Hnefatafl Shop . This is the smart, no-nonsense approach to hnefatafl. With 37 pieces on an 11x11 board, it's suitable for playing many versions of hnefatafl, old and new. But it doesn't cost the earth. The board is hand-made from beech plywood, coated with a cellulose finish and beeswax polish to ... (read more...)
Price: £14.95+P&P Out of stock. Order:
See your basket to check out products.