New in the Shop: Standard 25-piece Hnefatafl Game
Sunday, 22nd December 2013
The latest addition to the range of games in The Hnefatafl Shop is the Standard 25-piece Hnefatafl Game. With this game comes a balance between cost and elegance. It was created for customers who like the style and handling of the Deluxe 25-piece game but need something at a lower price. This set bridges the gap between the economical Basic range and the Deluxe.
The pieces are the same attractive wooden pawns that the Deluxe set uses, which give the game some of its old-fashioned Victorian feel. And the board pattern is the same, too, with nine rows of nine 1-inch (25mm) squares. This combination makes for easy handling, even for those with bigger fingers.
The board is of the same simple construction as the Basic range of games, and the pieces are supplied in a drawstring pouch. The rules booklet is the same as that supplied with all 25-piece games, containing three sets of rules: tablut, tawlbwrdd and sea battle tafl.
The Hnefatafl Shop, a subsidiary of the board game company Cyningstan, was created to provide a specialist on-line shop for hnefatafl. It forms part of the site Hnefatafl: the Game of the Vikings, which draws on over a decade of research to promote the game of hnefatafl and to provide information about its history, rules and strategy. By specialising in one game, The Hnefatafl Shop can offer a better range of products than more general gaming outlets.
Damian Walker, proprietor of The Hnefatafl Shop, said: "This game is a product specifically requested by customers. It fills the gap nicely between the most economic and the most luxurious games, and I think its smart but simple good looks will appeal to people."
The game is available from http://tafl.cyningstan.com/shop/842/standard-25-piece-hnefatafl-game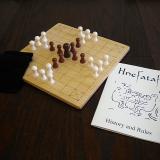 This hnefatafl game is the standard by which others should be measured. Priced lower than the Deluxe game, the standard game still offers simple elegance that makes it an attractive ornament for the coffee table while not in use. The board is made from beech plywood, and measures 10 inches (250mm) square. It is coated with a cellulose lacquer to give it a smooth, glassy feel, and is then polished with beeswax. The playing area consists of nine rows ... (read more...)
Price: £24.95+P&P Out of stock. Order:
See your basket to check out products.