New Product: Deluxe 25-piece Hnefatafl Game
Wednesday, 4th December 2013
Today a new product is being launched in The Hnefatafl Shop. The Deluxe 25-piece Hnefatafl Game is a stylish addition to the shop's range. It is aimed at the collector looking for a quality game, the enthusiast for all things Viking, or those looking for a gift for that special someone with an active mind.
Hnefatafl aficionados will appreciate the minimalist flexibility of its board design, while anyone can enjoy the understated but elegant design which makes this game an excellent conversation piece for the coffee table or the study. It has been influenced by good quality chess sets, and by the design of Victorian favourites like Halma.
The hand-made board is supplied with a separate wooden box for the pieces, as with many board games of yesteryear. The rules booklet is more extensive than many older games, however. There are many different versions of hnefatafl, and three are presented in the booklet, alongside a history of the game, and details of where to find out more.
The Deluxe 25-piece Hnefatafl Game differs from many others you can buy, because instead of going in for showy decoration, it aims for the simple elegance familiar to chess players. Where some games fill the board with Viking patterns or Celtic knot-work, indicating where the pieces are placed, this board uses authentic cross-cut designs and keeps them to a minimum: only the central space and the four corners are marked, allowing you to choose among a number of starting layouts.
The Hnefatafl Shop, a subsidiary of the board game company Cyningstan, was created to provide a specialist on-line shop for hnefatafl. It forms part of the site Hnefatafl: the Game of the Vikings, which draws on over a decade of research to promote the game of hnefatafl and to provide information about its history, rules and strategy. By specialising in one game, The Hnefatafl Shop can offer a better range of products than more general gaming outlets.
Proprietor Damian Walker said "This is the hnefatafl game I've always wanted to make. Now that the game is being taken more seriously, I wanted to have a set that would appeal to the more serious player."
The set is available from http://tafl.cyningstan.com/shop/800/deluxe-medium-hnefatafl-game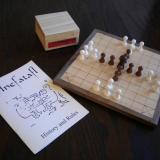 This is the first of the "deluxe" versions of hnefatafl available from The Hnefatafl Shop. This is what a hnefatafl set should look like: simple but elegant, a quality game that invites you to play, and serves to decorate the coffee table or the study when you're too busy to give it the attention it deserves. The board is hand-made from birch plywood, bordered with American walnut veneer. It is coated with a cellulose finish and beeswax polish to ... (read more...)
Price: £34.95+P&P Out of stock. Order:
See your basket to check out products.