Brandub Leaflet
Download: leaflet-brandub-book.pdf
Size 108kb, downloads 4269.
This leaflet describes a 7x7 game in which the king wins on reaching a corner. The king can take part in captures himself, and is captured the same way as any other piece.
This game would work well in Irish and Celtic re-enactment events, or in classes about Irish social history. For tournaments, this is a balanced game which emphasises short-term tactics, and is not as trivial as it first appears.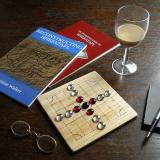 Play hnefatafl Celtic style with this lovely little Brandub game from Cyningstan. When the Vikings took hnefatafl to Ireland, the Celtic people adopted the game and called it Brandub . They preferred the smallest board, and adapted the rules to their own taste. The board is made from pine and is about six inches square (150mm). The pattern for the board is burned into the wood, and is based on a mediaeval stone board found at Downpatrick Cathedral. ... (read more...)
Price: £11.95+P&P Out of stock. Order:
See your basket to check out products.