Copenhagen Hnefatafl Leaflet
Download: leaflet-copenhagen-book.pdf
Size 116kb, downloads 9750.
Copenhagen hnefatafl is a modern variant specifically designed for tournament play. It addresses the issues in some other modern variants of the game, righting imbalance and reducing draws. While there are a number of authentic versions of hnefatafl which are balanced and not drawish, Copenhagen hnefatafl has become popular among some of the world's best hnefatafl players.
The leaflet here is designed for printing on two sides of a single sheet of A4 paper, though it can be scaled to print on US Letter paper without problems. The sheet can then be folded into a 4-page booklet. This is handy for reference and for teaching purposes, as copies can freely be made.
UPDATED: the leaflet has been updated with Tim Millar's corrections in the comment below.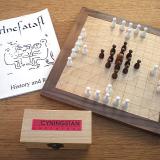 Some of the most popular hnefatafl games today are played on boards of 11 rows of 11 squares. This hnefatafl set brings such a game to you in a compact package. While it uses the same small squares as the low-cost Basic hnefatafl games, it emulates the style and refinement of the Deluxe range. This makes it both practical and attractive: find a place to display this in your home and it will be an instant conversation piece! The ... (read more...)
Price: £39.95+P&P Out of stock. Order: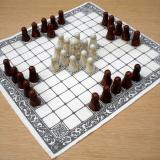 This set brings you an extremely attractive and decorative hnefatafl game at an affordable price. Its appearance makes this a very popular choice for those who want a set of their own. It's very nice to handle, and with its moulded pieces it makes a great ornament too. The board is made of canvas with traditional Viking patterns decorating the border and the starting squares of the pieces. Delivered and stored rolled up, it easily stays flat when laid ... (read more...)
Price: £19.95+P&P Out of stock. Order:
See your basket to check out products.