Another New Product: the Compact 25-piece Hnefatafl Game
Thursday, 17th April 2014
Hot on the heels of the Compact 37-piece Hnefatafl Game comes its smaller counterpart. The Compact 25-piece Hnefatafl Game offers the same space-saving but stylish design for those who want to play historic games like tablut. And its smaller size means that its ornamental possibilities are more versatile!
The board measures just eight inches square (200mm) but contains a grid of nine rows of nine squares, making it suitable for such games as tablut, tawlbwrdd, and sea-battle tafl. Its birch plywood base is ornamented by a border of American walnut veneer.
"This completes the range of 25-piece games that I envisaged when I opened the shop", explains proprietor Damian Walker. "Along with the Basic, Standard and Deluxe models, there's now a game to suit almost any budget."
The Hnefatafl Shop was founded in 2013 as a subsidiary of Cyningstan, who specialise in traditional board games. It was the first on-line shop dedicated to hnefatafl, and enters 2014 with a growing range of quality wooden hand-made games to suit all tastes and budgets.
Damian is looking at further products for the future: "As the shop grows, I hope to source larger boards so that I can expand the 37-piece games in the same way," he says, "and maybe even do some 49-piece games on the 13x13 board too."
The new 25-piece game costs £29.95, and is available on-line here at The Hnefatafl Shop.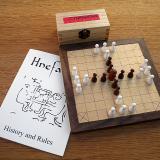 This little gem proves that it is possible to fit a quart into a pint pot! Emulating the stylish elegance of the larger Deluxe 25-piece game, the Compact game uses smaller squares and pawns to fir the same playability into a smaller package. Its neat proportions make it a great book shelf ornament, as well as making it easy to carry around with you. The board is made of birch plywood, with a decorative border of American walnut veneer. ... (read more...)
Price: £29.95+P&P Out of stock. Order:
See your basket to check out products.