Books on Hnefatafl by Damian Walker
Damian Walker has been researching hnefatafl since 2003, and has put the product of this research into a number of books: a number that is gradually expanding. The books are generally published and sold through Lulu, but they are also distributed to other retailers so they should be easy to find on-line or through your local book shop.
Currently there are two slim books dedicated to hnefatafl, and a larger book that includes a hnefatafl variant among a dozen interesting games that it examines in depth. You can read more about the books in the pages listed below, and find links on where to buy them.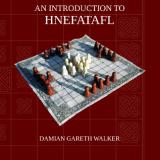 An Introduction to Hnefatafl is a slim book which tells the story of hnefatafl through four phases: origins, growth, decline and revival. Along the way, it gives the rules for a number of different versions of the game, as well as some of the games that inspired it and the games that it inspired. The work is rounded off with a chapter on strategy. Originally sold on the web site as a 20-page booklet, the project has been expanded ... (read more...)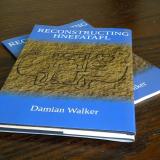 Reconstructing Hnefatafl is Damian Walker's first book on our favourite game. It leaves modern innovations to game designers, and instead concentrates on those versions of hnefatafl that have been mentioned in history. Particular attention is played to the well-documented games, but there are chapters which adapt these games to extant boards for which we have no written rules. Care is taken in the reconstructions to avoid inventions not based on historical sources. This is the first printed book dedicated ... (read more...)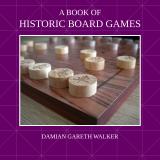 While not exclusively about Hnefatafl, A Book of Historic Board games has an extensive chapter on Tablut, the hnefatafl game played in Lapland till the eighteenth century. The chapter has a history of tablut, with a digressions abut hnefatafl in general, along with a straightforward set of rules and a section on strategy. Tablut is one of twelve historic board games included in the book, each chapter having between 12 and 24 pages on its chosen game (tablut being ... (read more...)