The Viking Game Now Available Here
Wednesday, 20th May 2015
I am pleased to announce that The Viking Game is now available from The Hnefatafl Shop. The Viking Game, made since 1981 by History Craft in Cirencester, is probably the most popular hnefatafl set made in recent times. Its decorative appearance and reasonable price have made it a firm favourite among fans of Viking history and board games alike.
The game features a canvas board with a grid of eleven rows of eleven squares, having the starting positions of the pieces marked out with traditional Viking patterns. There are 37 pieces supplied: a king, twelve fair defenders and 24 dark attackers. All are supplied in a box along with a handy card rules reference. Rules are given in English, French, German and Japanese.
The rules of The Viking Game are very straightforward and easy for beginners to pick up. For the more serious hnefatafl player, the popular 11x11 configuration with 37 pieces makes the game ideal for playing other hnefatafl variants, for instance: Fetlar hnefatafl, Copenhagen hnefatafl, and York hnefatafl too.
The proprietor of The Hnefatafl Shop, Damian Gareth Walker, is very pleased with the product. "A number of people have asked me where they can get hold of this set since I launched the Hnefatafl web site", he said, "and now it's available direct from The Hnefatafl Shop."
The Hnefatafl Shop is a part of the web site "Hnefatafl: The Game of The Vikings". Built on more than a decade of research into the game, the web site is the ideal place to find information and resources about the game. The shop provides a useful addition to the site for those who are enthusiastic about getting their hands on a copy of the game.
To buy a sweet try, please visit its product page here.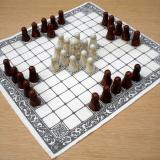 This set brings you an extremely attractive and decorative hnefatafl game at an affordable price. Its appearance makes this a very popular choice for those who want a set of their own. It's very nice to handle, and with its moulded pieces it makes a great ornament too. The board is made of canvas with traditional Viking patterns decorating the border and the starting squares of the pieces. Delivered and stored rolled up, it easily stays flat when laid ... (read more...)
Price: £19.95+P&P Out of stock. Order:
See your basket to check out products.