Last Few Booklets Back on Sale
Tuesday, 29th March 2016
Last year the 44-page book An Introduction to Hnefatafl replaced the 20-page booklet of the same name that used to be sold on this site. Looking through my stock cupboard this evening I found five copies of the old booklet, forgotten and unloved. So I've decided to put them in the shop and see if they can find a new home.
The old booklet contained much of the content of the new book, mainly lacking a number of photographs and the section on strategy. Some of the rule sets are old versions that have been refined in the newer book. But the booklet is still a good little read and makes a great gift for a friend who you'd like to introduce to hnefatafl. And better still: I've dropped the price to under £2!
If you want to buy a copy of the book, just head over to its product page An Introduction to Hnefatafl (old edition), in The Hnefatafl Shop, and order yourself a copy.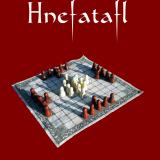 Learn about the history of hnefatafl, and how to play some of the many different versions, with this 20-page booklet. The booklet takes you through the history of the game, starting with its predecessors and continuing up to the present day. It includes rules for a number of different hnefatafl games, and three other related games. This booklet contains numerous black and white illustrations, and is the ideal gift for someone who is interested in hnefatafl, or in ... (read more...)
Price: £1.95+P&P Out of stock. Order:
See your basket to check out products.