Some new boxes, and a Quandary
Saturday, 14th December 2013
A batch of new boxes has arrived here today. They're 90mm square and 50mm high. They've got a bevelled top and a bevel at the opening. The size of these boxes is exactly right for the pawns of the Deluxe 25-piece Hnefatafl Game, and it has been my idea to use them as replacements for the slightly larger boxes I've supplied with the first batch.
It's taken me a good long while to find a box that's exactly the right size for that set. Get a box too large, and the pieces swill around in the bottom of it, while a box too small is obviously useless. The current box is just slightly too large for my liking, the pieces only filling it about half way. The new boxes contains the pieces perfectly.
So what's the quandary? Well, I don't like them. The old box is square, featureless, sleek and serious, and goes perfectly (but for its size) with the look of the new Deluxe set. The new box with its fancy bevelled edges doesn't have this same quality. It's not a bad box, but I'm not sure whether the look will grow on me or not.
I'd be interested to know what readers think of them. Bear in mind that the ones in the pictures don't have the lacquered finish applied yet, so they're bound to look a bit rough. But imagine one looking a bit more rich and shiny, with the red Cyningstan label attached: do you like it? Please do let me know what you think in the comments here.
I'm going to use the ones I've bought with Deluxe sets, But once the supplies run low, I'll see what people have said. And I may go back to the older boxes, even if it does give the pieces a bit too much rattle-room.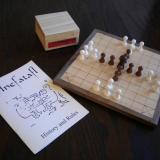 This is the first of the "deluxe" versions of hnefatafl available from The Hnefatafl Shop. This is what a hnefatafl set should look like: simple but elegant, a quality game that invites you to play, and serves to decorate the coffee table or the study when you're too busy to give it the attention it deserves. The board is hand-made from birch plywood, bordered with American walnut veneer. It is coated with a cellulose finish and beeswax polish to ... (read more...)
Price: £34.95+P&P Out of stock. Order:
See your basket to check out products.