The Characteristics of Brandub
Thursday, 5th September 2013
Some people might assume that brandub, with is small board and few pieces, must be the easiest of the tafl games to get to grips with. As I've found out when playing against a hnefatafl grandmaster, it's far from it. I've said before that Brandub is more punishing of mistakes than larger variants. But there is another characteristic that I've noticed as I keep getting thrashed at the hands of other people, and occasionally, the applet on this site.
Others have noted that the attacker can't completely surround the defenders in this game. Those who like the cordon and kettling style of play therefore don't like brandub. It is possible to blockade the opponent: there will be openings, but the secret is to make the defender pay dearly for using them.
Because the number of pieces is small, you will often find that a single piece multitasks. One of the big mistakes with the game is forgetting some of the tasks that a piece is performing before you move it. For instance, a piece may form one half of an ambush that you intend to prepare. But as the game goes on, this piece, without having moved, may become a protector for the king or some other piece on the board. Fail to notice this, and your king or some other strategic piece may fall prey to an unexpected attack when you proceed with the intended ambush.
This will happen in other forms of hnefatafl too, but larger numbers of pieces on the board mean there are often other pieces that can relieve an overworked attacker or defender, where in brandub such relief is hard to come by. Now if I can look out for this, I may stop falling prey to surprise attacks and perhaps, eventually, start using the knowledge to my advantage.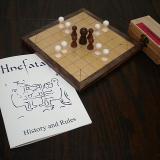 This little board game combines simplicity and style in a small package. Don't be fooled by its size: the small game is every bit as absorbing as its larger cousins. This edition is designed with the true connoisseur in mind: showy decoration is put aside in favour of understated elegance and practicality. Yet it still looks good enough to decorate the coffee table. The hand-made board is of birch plywood, and measures 8 inches (200mm) square. The border is ... (read more...)
Price: £24.95+P&P Out of stock. Order:
See your basket to check out products.