RomBol Hnefatafl - Another Set Available from The Hnefatafl Shop
Sunday, 17th April 2016
This weekend sees another new game available in The Hnefatafl Shop. RomBol hnefatafl is the biggest game yet sold in The Hnefatafl Shop, with its board having a whopping thirteen rows of thirteen squares.
The game components are more like a modern board game than a traditional one. Its board and pieces are decorated with art work (and its box, too). Made out of thick card, its 37 fierce blue and yellow Vikings battle it out on a wood-effect board.
Damian Walker is happy that this game is now available in the shop. "I've wanted to sell a big 13x13 hnefatafl game for a long time. The RomBol game lets me do that at an affordable price."
Cyningstan has been promoting hnefatafl since 2004, and started production of all kinds of historic board games in 2007. In 2013 The Hnefatafl Shop was set up specifically to sell the hnefatafl games made by Cyningstan, and now sells hnefatafl sets from Cyningstan and other manufacturers.
The game can be bought from here.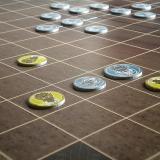 This super hnefatafl game from Germany is an impressive sight. Built in the style of modern board games, this hnefatafl set features some decorative artwork. The board, printed double-sided on thick card, unfolds to 22 inches square (560mm). Both sides have a printed wood-effect pattern taken from a real historic board. It has thirteen rows of thirteen squares, a size popular with the Vikings. The circular pieces, also printed on thick card, feature fearsome Viking faces. A ... (read more...)
Price: £11.95+P&P Out of stock. Order:
See your basket to check out products.