New Hand-made Brandub Game Available from Cyningstan
Sunday, 10th April 2016
Today sees the launch of Brandub, a new hand-made game from Cyningstan. This compact game will especially appeal to fans of hnefatafl who want a small and handy version of the game to play.
Brandub is a hnefatafl game that packs a lot of tactical depth into a small package. The small number of pieces on a board with fewer squares than a chess board gives the impression of an easy game, but Brandub is far from it. This game is full of traps for the unwary!
In this game, a black king attempts to escape to one of the corner squares with the aid of four red defenders. Eight white attackers lie in wait to capture the king and prevent his escape.
The product features a hand-made wooden board and thirteen glass pieces. A drawstring bag is supplied to hold the pieces, and a 4-page A5 booklet explains the history and rules of the game. All the components are supplied in a card box for each storage and safe travel.
Proprietor Damian Walker is enthusiastic about this little game. "Until now it has been difficult to find an affordable Brandub game of decent quality," he said. "After looking around at the games already available, I decided that the best option was to make one myself."
Cyningstan has been promoting hnefatafl since 2004, and started production of all kinds of historic board games in 2007. In 2013 The Hnefatafl Shop was set up specifically to sell the hnefatafl games made by Cyningstan, and now sells hnefatafl sets from Cyningstan and other manufacturers.
"Since last year there's been a gap in the range for a good hnefatafl game on the little 7x7 board," Damian Walker explained. "With this new game, The Hnefatafl Shop has a decent range of sizes available."
The new Brandub game is available from The Hnefatafl Shop.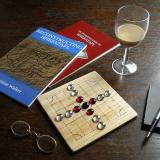 Play hnefatafl Celtic style with this lovely little Brandub game from Cyningstan. When the Vikings took hnefatafl to Ireland, the Celtic people adopted the game and called it Brandub . They preferred the smallest board, and adapted the rules to their own taste. The board is made from pine and is about six inches square (150mm). The pattern for the board is burned into the wood, and is based on a mediaeval stone board found at Downpatrick Cathedral. ... (read more...)
Price: £11.95+P&P Out of stock. Order:
See your basket to check out products.