New Hnefatafl Game for the New Year
Thursday, 7th January 2016
I hope everyone is having a great new year so far. Here at the Hnefatafl Shop the year is starting with a new game. I've added a beautiful little hnefatafl game to the shop. This one's especially great for people on the move, as it packs a lot of strategy into a compact package.
Using authentic materials, this game fits into a small tube which can be secreted away into a small bag or the corner of a larger hold-all, useful for taking with you while travelling. It uses traditional materials, so it will be very attractive to re-enactors.
The leather board is supple enough to be stored rolled up, yet rolls out flat when needed. It has nine rows of nine squares and is marked with the centre and corner squares only, allowing versatility in which rule set you want to play with.
The pieces are turned wood, with a red king and his eight dark defenders facing sixteen light-coloured attackers. The rules are simple, easy to understand and well-illustrated. You can also take advantage of the rules available on this site; tablut is especially recommended.
Proprietor Damian Walker explains the reasoning behind this new addition to the shop: "In expanding the shop for 2016, I wanted to provide more variety for people looking for a hnefatafl game." He continued, "While The Viking Game is very popular, some people prefer the smaller game. And this compact set, offered at a modest price, might be just what they're looking for."
The Hnefatafl Shop was set up to provide an exclusive shop for hnefatafl games and products. Originally selling hand-made games made by Cyningstan in Hull, the shop now sells hnefatafl games from manufacturers around the UK.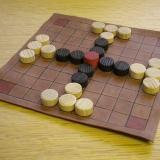 This beautiful and compact set from Gothic Green Oak in Wales is great for playing authentic hnefatafl games from history. Made using traditional materials, the wooden pieces are complemented with a leather board. Its compact size and packaging makes this an ideal set for playing on the move. The board is marked with the king's central square and the four corners. This versatility allows you to experiment with the starting positions if you want to explore different rule ... (read more...)
Price: £13.95+P&P Out of stock. Order:
See your basket to check out products.