Imperial Contest Leaflet
Download: leaflet-imperial-contest-book.pdf
Size 119kb, downloads 2904.
Imperial Contest was the first commercial version of hnefatafl, appearing in 1855. Adapted from tablut, Imperial Contest was set in the Crimean War, setting the Russian emperor and his forces against a coalition of allies. The rules were copied by an American manufacturer in 1863, who released the game as Freedom's Contest, set in the American Civil War.
The emperor in this game wins on reaching the edge of the board. He cannot capture enemies, and needs to be surrounded on four sides to be beaten. So far this is identical to Sea Battle Tafl, but there are two more differences: the emperor here is limited to a move of four squares distance at most, and when two or more pieces are simultaneously surrounded, only one can be captured.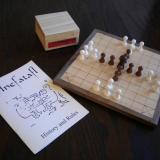 This is the first of the "deluxe" versions of hnefatafl available from The Hnefatafl Shop. This is what a hnefatafl set should look like: simple but elegant, a quality game that invites you to play, and serves to decorate the coffee table or the study when you're too busy to give it the attention it deserves. The board is hand-made from birch plywood, bordered with American walnut veneer. It is coated with a cellulose finish and beeswax polish to ... (read more...)
Price: £34.95+P&P Out of stock. Order: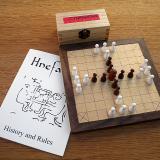 This little gem proves that it is possible to fit a quart into a pint pot! Emulating the stylish elegance of the larger Deluxe 25-piece game, the Compact game uses smaller squares and pawns to fir the same playability into a smaller package. Its neat proportions make it a great book shelf ornament, as well as making it easy to carry around with you. The board is made of birch plywood, with a decorative border of American walnut veneer. ... (read more...)
Price: £29.95+P&P Out of stock. Order:
See your basket to check out products.