Fetlar Hnefatafl Leaflet
Download: leaflet-fetlar-book.pdf
Size 119kb, downloads 6449.
This leaflet is a paraphrase of the rules developed by the Fetlar Hnefatafl Panel for their annual World Quick-play Hnefatafl Tournament. This version has been adopted by other tournaments around the world and is supplied with some commercial sets of the game.
Fetlar hnefatafl features a strong king, who may capture enemies and needs to be surrounded on four sides in order to be captured. However, to achieve balance he is required to reach a corner of the board, rather than the edge. Like chess and draughts, Fetlar hnefatafl can be prone to draws at higher levels of play.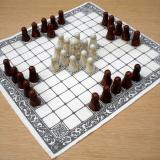 This set brings you an extremely attractive and decorative hnefatafl game at an affordable price. Its appearance makes this a very popular choice for those who want a set of their own. It's very nice to handle, and with its moulded pieces it makes a great ornament too. The board is made of canvas with traditional Viking patterns decorating the border and the starting squares of the pieces. Delivered and stored rolled up, it easily stays flat when laid ... (read more...)
Price: £19.95+P&P Out of stock. Order:
See your basket to check out products.