York Hnefatafl Print-and-play
Download: york-print-and-play.pdf
Size 1599kb, downloads 3737.
The year is A.D. 954, and King Eric Bloodaxe is ruler of York. But not for long! The Northumbrians are approaching York to drive him out. Eric is outnumbered and will not hold the city, but if he manages to escape, then he has the chance to retake his city and his kingdom in future. Will he manage, or will the Northumbrians capture him and end his ambitions for good? This is a setting for Hnefatafl as published by the York Archaeological Trust back in 1980. King Eric must get to any edge square to escape. His priority is escape, not battle, so he does not capture enemy pieces. But he must be surrounded on four sides to be captured.
This is a colour print-and-play, though the instructions tell how a black and white printer can be used. The game prints onto standard A4 or US Letter sized paper and card, which can be laminated or glued to thicker backing card for durability. The PDF includes a copy of the York Hnefatafl leaflet available elsewhere on this site.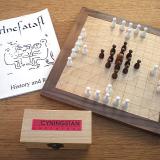 Some of the most popular hnefatafl games today are played on boards of 11 rows of 11 squares. This hnefatafl set brings such a game to you in a compact package. While it uses the same small squares as the low-cost Basic hnefatafl games, it emulates the style and refinement of the Deluxe range. This makes it both practical and attractive: find a place to display this in your home and it will be an instant conversation piece! The ... (read more...)
Price: £39.95+P&P Out of stock. Order:
See your basket to check out products.