York Hnefatafl Leaflet
Download: leaflet-york-book.pdf
Size 121kb, downloads 3890.
York Hnefatafl is a name I have given to the version of hnefatafl marketed by the York Archaeological Trust in 1980, which they simply called "hnefatafl". It was designed by David Brown, and features a weaponless king who requires four attackers to capture him, and wins upon reaching the edge of the 11x11 board.
The leaflet is designed for printing on two sides of an A4 sheet. This can then be folded to create a handy A5 leaflet. Feel free to use it as a supplementary rule set for your own board, or hand it out at events and venues where hnefatafl might be played.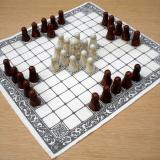 This set brings you an extremely attractive and decorative hnefatafl game at an affordable price. Its appearance makes this a very popular choice for those who want a set of their own. It's very nice to handle, and with its moulded pieces it makes a great ornament too. The board is made of canvas with traditional Viking patterns decorating the border and the starting squares of the pieces. Delivered and stored rolled up, it easily stays flat when laid ... (read more...)
Price: £19.95+P&P Out of stock. Order:
See your basket to check out products.