Single-step Hnefatafl Leaflet
Download: leaflet-single-step-book.pdf
Size 119kb, downloads 3264.
Often just called "Hnefatafl" in the books that feature it, this game is here called single-step hnefatafl to distinguish it. The peculiarity of this game is that pieces move only to adjacent squares, making progress much slower than in other versions of hnefatafl.
Single-step hnefatafl is always played on a board of 81 squares, with a king and eight defenders against sixteen attackers; the defenders are always formed up into a square. Certain versions of this game give the king victory when he reaches the board edge, but the version given here follows most of the books in expecting him to reach a corner.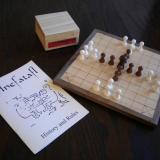 This is the first of the "deluxe" versions of hnefatafl available from The Hnefatafl Shop. This is what a hnefatafl set should look like: simple but elegant, a quality game that invites you to play, and serves to decorate the coffee table or the study when you're too busy to give it the attention it deserves. The board is hand-made from birch plywood, bordered with American walnut veneer. It is coated with a cellulose finish and beeswax polish to ... (read more...)
Price: £34.95+P&P Out of stock. Order:
See your basket to check out products.